Musical Material
Roc Jiménez de Cisneros (Evol) & Rosa Menkman
25.10.2015
Musical Material
Roc Jiménez de Cisneros (Evol) & Rosa Menkman
25.10.2015
Download press release as
Word
in
English
.
Musical Material #01
EVOL & Rosa Menkman
Sunday October 25, 4 pm
Venue: West, Groenewegje 136 The Hague.
Fee: Pay What You Want
Attend on Facebook: 
https://goo.gl/XHC0qG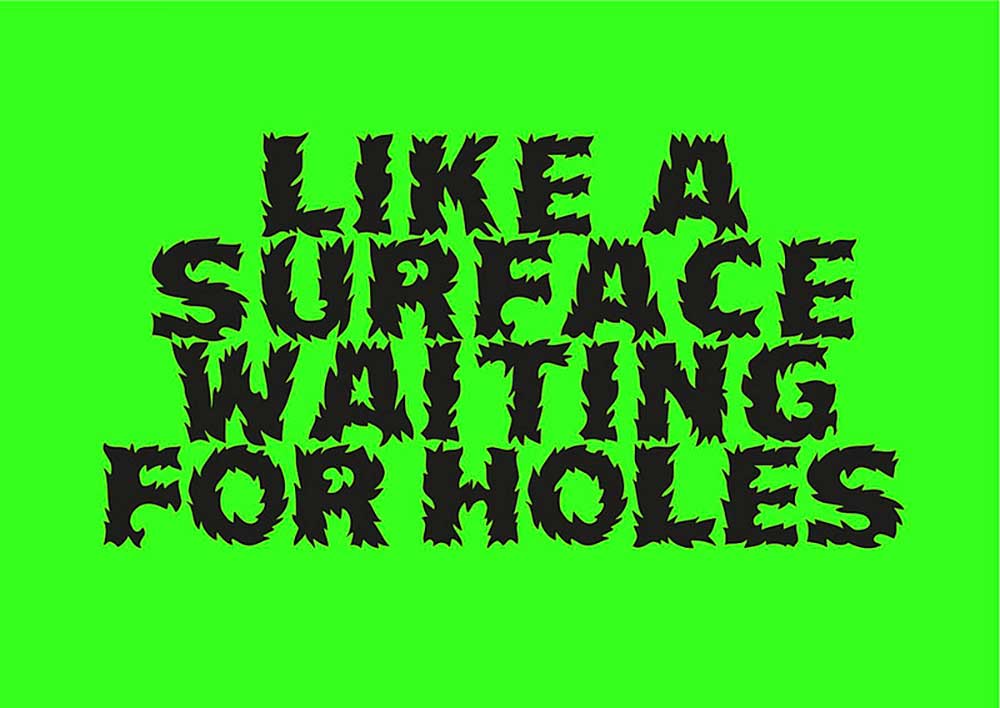 This fall we are starting a new collaboration with Rewire named Musical Material. Musical Material is a series of meetings on Sunday afternoons, during which national and international guests present their work and enter into dialogue. Specialists in the fields of music, art and/or reflection, test and discuss the details of their profession in an intimate setting. During which the borders of traditional disciplines are insignificant and expertise will be interchanged. A discussion leader will provide a flexible platform to producers, where, besides personal, experimental and unexpected presentations, the dialogue forms centre stage.
EVOL – 'Like a surface waiting for holes' (talk + performance)
For Musical Material, EVOL's Roc Jiménez de Cisneros gives a talk on holes where he addresses the problematic definition of a hole — in everyday language and life as well as from a metaphysical point of view. Giving a compact overview of the diverse approaches to the ontology of holes in recent philosophy, he draws from authors such as Achille Varzi, Roberto Casati, Roy Sorensen, Henry Moore, Barbara Hepworth, George Lakoff, Mark Johnson and others. In a performance following his talk, De Cisneros explores holes in sound, and playfully suggests the idea of a musical taxonomy based on holes and levels of perforation. His will performance samples Detroit techno to stadium rock or scratch techniques, among others.
Roc Jiménez de Cisneros is an artist from Barcelona. music producer and founder of the computer music group EVOL.
More info:
http://vivapunani.org
&
Rosa Menkman – 'Beyond Resolution' (performative lecture)
For Musical Material, in a performance lecture, Rosa Menkman navigates the world of the encrypted messages and JPEG compression. The legibility of an encrypted message is not only dependent on the complexity of an algorithm, but also on the placement of the message data. The mathematical technique Discrete Cosine Transform, converts signals into elementary components, known as compression. In the case of the JPEG compression, a DCT is used to describe a finite set of patterns, called macroblocks, which could be described as the 64 characters making up the JPEG image, adding lumo and chroma values as 'intonation'. In her lecture, Menkman explores what is hidden on the surface of an image, which is only legible to the ones in the know.
Rosa Menkman is an Amsterdam based artist and theorist who focuses on visual noise artefacts.
More info at
http://www.rosa-menkman.blogspot.com