Reynold Reynolds
Six Pieces
03.09.2011 — 29.09.2011
Reynold Reynolds
Six Pieces
03.09.2011 — 29.09.2011
Listen to the recording from the evening.
Player
Artist talk
Egbert Dommering in conversation with Reynold Reynolds
Wednesday 14 September 20:00 — 22:00
West, Groenewegje 136, 2515 LR
Free entry, talk and conversation in english, space is limited.
Please submit your reservation.

Reynolds Reynolds maakt films die in gaan op verschillende aspecten van het menselijk bestaan. Zijn werk is indrukwekkend door de betoverende esthetiek, die tegelijkertijd koel en sensueel is. De eenzaamheid is nijpend en de dood onvermijdelijk. De fatalistische films hebben een enorme poëtische kracht, waardoor verval dragelijk wordt. Reynolds brengt filosofie, natuurkunde en kunstgeschiedenis bij elkaar en gebruikt, een deels zelf ontwikkelde, techniek als manier om chaos onder controle te krijgen.
Egbert Dommering, in het dagelijks leven hoogleraar informatierecht en advocaat, heeft samen met zijn vrouw een omvangrijke verzameling moderne beeldende kunst waaronder videos van (inter)nationaal bekende kunstenaars. Dommering was bestuurslid van de stichting de Appel in Amsterdam en stichting Zeebelt in Den Haag.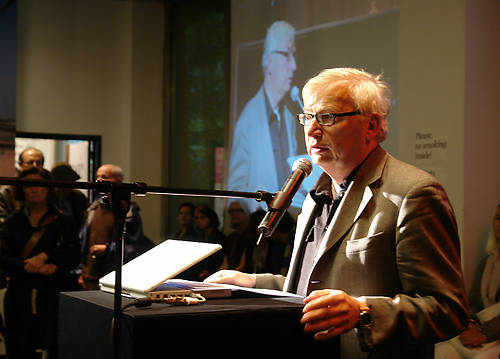 Egbert Dommering